MP faces Amreli villagers' ire in campaign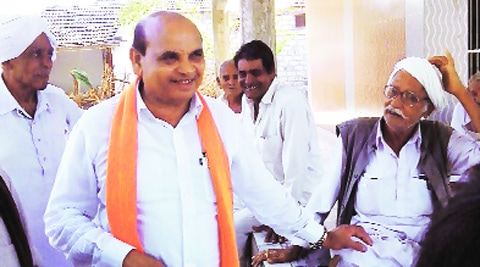 Wearing a Rado watch and dressed in all whites, BJP's sitting MP Naranbhai Kachhadiya tried to make a personal connect with the villagers by shaking hands.
At a time when Gujarat's superior road infrastructure is being appreciated across the country, BJP's sitting MP  Naranbhai Kachhadiya had to face the ire of villagers for poor roads in Amreli, from where he is seeking re-election in the Lok Sabha election scheduled on April 30.
The incident took place on Saturday evening when he was moving through a village, addressing the common people at group meetings with a handful of his supporters in Bagasara, a historical place where Gujarat's well-known poet and novelist Javerchand Meghani received his primary education.
At one such group meeting held on the premises of a temple at Shilana village, which was participated by about 100 villagers, mostly elders and leaders, the BJP leader was showered with a volley of questions from the villagers just as he was about to speak. They demanded to know the reason for the poor condition of the roads in and around Amreli.
"On your way to the village you must have seen the poor condition of the roads. In the past five years, there have had several instances when pregnant women have not been able to reach even a nearby hospital in time due to this and had to give birth on route to the hospital," said Gautam Vaghasiya, one of the most vocal among the protestors.
A couple of them demanded that the MP first informed them about the current status of the road-work and seek votes later.
Faced with stiff opposition, the MP was seen seeking a local official's help to get over the situation. He later said that road-repair work worth Rs 4.5 crore will be taken up at Bagasara after the Lok Sabha elections.
"When a person from Gujarat is going to become the prime minister of the country, it is the duty of every Gujarati to vote for him," Kachhadiya said, adding that there are about 15 lakh voters in Amreli, most of whom live in villages, dotting the predominantly rural constituency. "Modi alone can guide the country into the future. He has promised to present a separate budget for agriculture that will benefit the farmers," Kachhadiya said while addressing villagers on his battery-operated microphone.
Kachhadiya and his supporters were seen pacifying villagers and distributing his visiting cards to a group of villagers, asking them to personally come and see him whenever faced with a problem.
Kalu Patel, a villager summed up the disappointment among the locals, when he said, "Naranbhai has come for the first time to our village after being elected… so the anger and the reactions…"
After finishing his meeting at the village, the BJP leader told The Indian Express, "90 per cent of this village will vote …continued »