Cong clueless about how Digvijaya son-in-law's name sneaked into LS list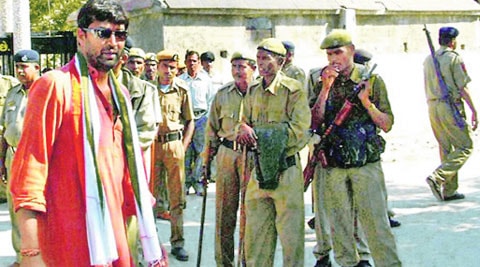 Paranjaditya Parmar
The Congress central election committee (CEC) declared Thasra MLA Ramsinh Parmar as candidate for the Panchmahals seat on Thursday, after a controversy over the earlier declaration of the name of Paranjaditya Parmar, son-in-law of AICC general secretary and now Rajya Sabha member Digvijaya Singh for the same seat.
However, the case of how Paranjaditya's name "sneaked" into the Congress's list of candidates announced on March 18, gets curiouser as party sources claimed the team that drew the list was unaware of this.
Paranjaditya's name was announced for the Panchmahals seat along with 57 others in Delhi and withdrawn within "15 minutes", said party leaders. His name was cancelled after a realisation that "there were too many manes from one family in the Parliament", said sources.
His father-in-law Digvijaya Singh, who is close to party vice-president Rahul Gandhi, was recently elected to the Rajya Sabha and his brother Lakshman Singh was also in the race for a Lok Sabha ticket.
Sources in the Congress said that Shankersinh Vaghela had made way for Paranjaditya to contest from the Panchmahals seat, by choosing to contest from Sabarkantha seat in north Gujarat.
Vaghela had lost the Panchmahals seat by a thin margin of 2,081 votes in 2009, a defeat that was blamed on "internal sabotage".
Earlier, AICC general secretary Madhusudan Mistry was to contest from Sabarkantha, but with Mistry being elected to the RS along with Digvijaya Singh, Vaghela stepped in to contest the Lok Sabha from Sabarkantha, apparently to honour an "understanding" he had with Digvijaya Singh, even before he was elected to Rajya Sabha, said sources.
Vaghela told The Indian Express, "I was already an MLA, but decided to contest the Lok Sabha only because I was asked to". The panel of names sent for the Panchmahals seat by the party's Gujarat unit had Balasinor MLA Mansinh Chauhan, Thasra MLA Ramsinh Parmar and Paranjaditya Parmar on it.
Ramsinh is also the chairman of Amul Dairy, and seen as Vaghela's supporter. Of this, CEC had finalised Chauhan's name, pending announcement after Holi, sources said.
"Somehow Paranjaditya's name crept into the list but was withdrawn within 15 minutes", said Gujarat Pradesh Congress Committee chief Arjun Modhwadia, refuting reports that the Gujarat party unit had recommended only his name to the CEC
Meanwhile, Manish and Ramsinh threatened to resign over his candidature. Paranjaditya, the royal scion of Santrampur married to Digvijaya Singh's daughter Mandakini, was an MLA from Santrampur in 2007. He was forced to quit the electoral contest in 2012 after the seat was reserved for tribals following delimitation and is now part of Dahod Lok Sabha seat, which is also reserved for Scheduled Tribes. Paranjaditya was unavailable for comment.
Cong yet to finalise names for 8 LS seats
Ahmedabad: Congress, which has declared candidates for 18 Lok Sabha seats, has not yet been able to finalise candidates for the remaining eight seats in the state. These seats are Navsari, Surat, Bharuch, Ahmedabad East,  Gandhinagar, Patan, Amreli and Porbander. Sources said that …continued »