BJP MLA gets EC clearance for movie, asks 'critics' to stay away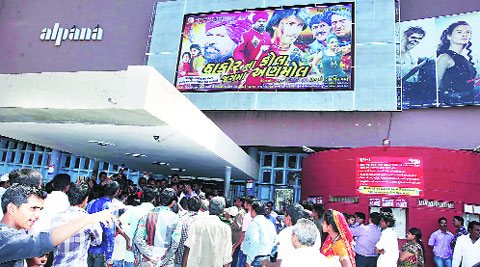 MLA Madhu Shrivastav's film set to relese.
A day after a group of activists lodged a formal complaint with the Vadodara District Election Officer and the State Electoral Officer, objecting to the release of BJP MLA Madhu Shrivastav's movie — Thakor na kol, jag ma anmol — the flamboyant MLA cautioned his "critics" to stay away.
At the first show of his movie on Friday afternoon, the audience for which comprised mostly of residents of Shrivastav's Assembly constituency Waghodia, the MLA said that he had made the movie to "reflect the traditions of Gujarat" and lashed out at his critics who were dragging the release of the movie to the Election Commission.
Shrivastav said, "I know there are people who are jealous of the success of this movie and I want to tell them that I have been a citizen of Vadodara since birth. I have the strength and power to take on each one of them and teach them a lesson. I am not playing a politician nor promoting any party in the movie. There is no basis for these objections."
Meanwhile, the Election Commission officers have watched the movie and are preparing their report on the complaint. Hitesh Koya, District Nodal Officer for implementing Model Code of Conduct, said, "We have appraised the collector about our report as we have found nothing objectionable in the movie in regard with model code of conduct."