10 big fights of Gujarat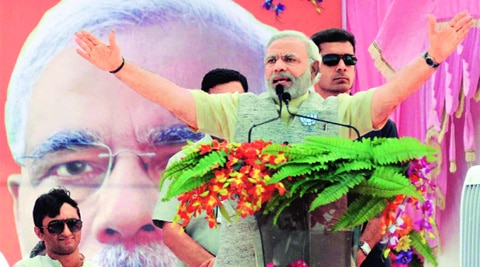 In Vadodara, while Mistry has the NGOs on his side, Modi has the RSS. PTI
The war paint is on. The BJP is aiming at winning all 26 LS seats from Gujarat, while the Congress has announced no such target. Nonetheless, Lok Sabha 2014 promises to be exciting with Chief Minister Narendra Modi running for the country's top  job. Hiral Dave looks at the 10 seats that are likely to  be gripping.
VADODARA
This former princely state has turned into a battleground for the BJP's prime ministerial candidate, with the pitch set for a Chaiwala vs Chawlwala fight. After the party announced Vadodara as Modi's second seat, the Congress changed its candidate Narendra Ravat, who had won the primaries, and replaced him with its Rajya Sabha member and general secretary Madhusudan Mistry to fight the mother of all battles.
With this, the seat that looked like a cakewalk, suddenly turned into a challenge for the BJP. Modi's remarks that Ravat was removed because he was a Dalit only indicated that the fight had finally begun.
Mistry has the NGOs on his side, while Modi has the RSS. BJP has put minister Saurabh Patel, an MLA from Vadodara, in charge of Modi's campaign, with sitting MP Balkrishna Shukla, who won with a huge margin of 1.5 lakh votes, being assigned as a foot soldier.
Modi has the advantage of his position as well as the fact that he began wooing voters in Vadodara from December last year, when he chose to flag off the 'Run for Unity' for the Sardar Patel statue, which was originally a Vadodara Marathon. Now he also has the royal family on his side.
The Aam Aadmi Party (AAP) is yet to announce its candidate for this constituency.
GANDHINAGAR
The verdict of this battle would have been a foregone conclusion, had the BJP patriarch not voiced his reluctance to contest from here. The sense he and many BJP leaders were getting was that Advani had lost favour with the ranks after he protested against Modi's elevation in the party. However for the BJP, Gandhinagar has become a prestige issue. The Congress has given the ticket to a Shankersinh Vaghela loyalist Kirit Patel to fight five-time Gandhinagar MP Advani, and also corner the Patel votes.
Here there is AAP candidate Rituraj Mehta, a builder who could get some of the capital votes, given Arvind Kejriwal's popularity with the bureaucracy.
So the BJP flew in its general secretary in charge of UP Amit Shah to extend the solidarity of the party, even as Advani's daughter Pratibha and minister in charge of the constituency Anandi Patel did a roadshow. Advani, who wanted to contest from Bhopal, where Chief Minister Shivrajsingh Chouhan would have rolled out a red carpet, will have to garner votes in the name of his protege Narendra Modi here.
JAMNAGAR
Thirty-nine-year-old Poonam Maadam has been fielded by the BJP to challenge Jamnagar Congress's two-term sitting MP and her uncle Vikram Maadam. She has got a ticket to the …continued »