New Delhi |
Published: August 12, 2014 10:21:07 am
In keeping with the strategy of removing bottlenecks in the exploitation of oil and gas blocks that were awarded earlier, the petroleum ministry has proposed a clutch of changes in production-sharing contracts (PSCs). The changes would result in significant liberalisation of the terms of the PSCs and expeditious monetisation of as many as 30 blocks held by ONGC, Reliance Industries,Cairn India, GSPC, Oil India and others.
While placing under review the terms of the New Exploration and Licensing Policy (NELP) whose past nine rounds have barely been successful, the ministry has accorded top priority to increasing production from blocks already awarded where the activities are hampered by rigidities in the PSC terms, among other issues.
As FE had earlier reported, the ministry had asked PSU explorer ONGC to come up with an action plan to accelerate production at its long-neglected marginal fields.
Sources said the ministry has listed out the changes in PSC norms — about a dozen of them — for pre-NELP and NELP blocks in a note that is expected to be taken up by the Cabinet Committee on Economic Affairs (CCEA) later this month or early September.
This is in sync with the government's endeavour to ramp up production of oil and gas from domestic fields and cushion the country's vulnerability to external oil shocks given that 80% of the oil required by the country is imported. India's crude oil import bill touched $143 billion in FY14, up from $100 billion in FY11.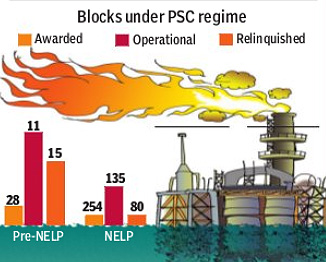 "The proposal aims to empower DGH (Directorate General of Hydrocarbons) and management committee (of respective blocks) to deliberate on the issues and approve relaxations on the timelines during the development or production stage of a block within a policy framework," an official familiar with the issue said.
The government has noted that currently many proposals for relaxations of timelines are either rejected by the DGH or are pending with it. For example, in the case of oil discoveries, a report stating whether the discovery is of potential interest has to be submitted to the management committee within 60 days and thereafter, the appraisal programme has to be submitted to the management committee within 120 days of notification of potential commercial interest.
In practical terms, contractors find these difficult to comply with but they receive no regulatory succour despite repeated pleas.
The government, sources said, may empower oil regulator DGH to grant extension of the appraisal period by six months for onshore blocks and 12 months for offshore blocks. This means that the explorer gets additional time to submit the declaration of commerciality (DoC). For example, ONGC in its block AA-ONN-2001/1 in the Assam-Arakan Basin bagged in the third round of NELP auction in 2003 submitted the DoC on April 26 (to meet the deadline). But three appraisal wells were under drilling and no additional data could be provided.
Similarly, DGH could also be empowered to grant extension of up to three months for onshore and six months for offshore blocks to submit the field development plan (FDP). Vedanta Group company Cairn has requested clubbing the FDP of two discoveries — Nagalanka-1Z and Nagalanka SE, made 18 months apart — in the Krishna-Godavari Basin block KG-ONN-2003/1. Now, this may entail a delay in the submission of the FDP in respect of the timeline of the first discovery, Nagalanka-1Z.
Other changes that would be brought into the PSC include reduction in minimum work programme in the case of blocks overlapping with a special economic zone, reserve forest, naval exercise areas, DRDO danger zones, national parks, urban areas, and firing ranges of police and armed forces.
Also, explorers would be allowed to swap 2D and 3D seismic minimum work programmes, in addition to drilling appraisal wells after submission of DoC. The explorers would also get permission for probing additional reservoirs during the appraisal programme.
The petroleum ministry also wants to put in place an empowered committee headed by the minister to resolve operational issues in implementation of PSCs.
Likely changes in PSC
* Extension of DoC submission by six months for onshore and 12 months for offshore fields
* Similar extension for filing field development plans
* Reduction in minimum work programme in blocks overlapping with SEZ, reserve forest etc.
* Allowing swapping of 2D and 3D seismic minimum work programmes
* Entry into subsequent exploration phases after paying cost of previous unfinished work
* Condoning delays in submission of notice for entering into next phase
* Allowing drilling of appraisal wells after submission of DoC
* Permission to probe additional reservoirs during appraisal
Siddhartha P Saikia | The Financial Express
For all the latest Business News, download Indian Express App