Vijay Mallya, chairman of the now-defunct Kingfisher Airlines, who was arrested in London on Tuesday and was granted bail within a few hours, has been facing heat from the Indian government, its investigating agencies and Indian banks for the last three years. At least half-a-dozen cases have been registered against Mallya and his airline for loan default and non-payment of taxes.
CBI case against KFA
The most notable of them is the suo motu case registered by the Central Bureau of Investigation (CBI) against Kingfisher and Mallya in July 2015 for alleged Rs 900 crore IDBI Bank loan fraud. Mallya left the country on March 2, 2016, and sought refuge in the United Kingdom, after a lookout notice was issued against him by the CBI. In September 2016, the CBI expanded its probe and filed a fresh case under Sections of IPC related to criminal conspiracy and cheating against Mallya and Kingfisher for Rs 6,900 crore loan default, on the basis of a complaint received from SBI-led 17-bank consortium.
Currently, Kingfisher owes over Rs 9,000 crore to 17 lenders including the SBI, IDBI Bank, Punjab National Bank, Bank of India, Bank of Baroda, United Bank of India, Central Bank, UCO Bank, Corporation Bank, Indian Overseas Bank, Federal Bank, Punjab and Sind Bank and Axis Bank, among others.
In January 2017, the CBI arrested four officials of Kingfisher Airlines and four former officials of IDBI Bank in the alleged Rs 900 crore IDBI Bank loan default case. The CBI in its chargesheet highlighted the "undue favours " given to Mallya while granting loans despite the poor financials of the company. The CBI claimed that the bank approved one of the loan requests by KFA within a day of receiving a proposal in 2009-10. The agency is now preparing to file a chargesheet in the Rs 6,900 crore loan default case.
Banks approach courts
The consortium of lenders have approached the Supreme Court seeking to recover $40 million payout Mallya received out of a $75 million package from Diageo, following his resignation as chairman of United Spirits Ltd in February 2016.
On January 19, the Debt Recovery Tribunal in Bengaluru ordered the lenders to start the process of recovering Rs 6,203 crore, at annual interest rate of 11.5 per cent, from Mallya and his companies in the Kingfisher Airlines case. The banks had moved the DRT in 2013 to recover dues from the defunct airline. SBI had filed three other applications also, including one seeking Mallya's arrest and impounding his passport, for "defaulting" on loans.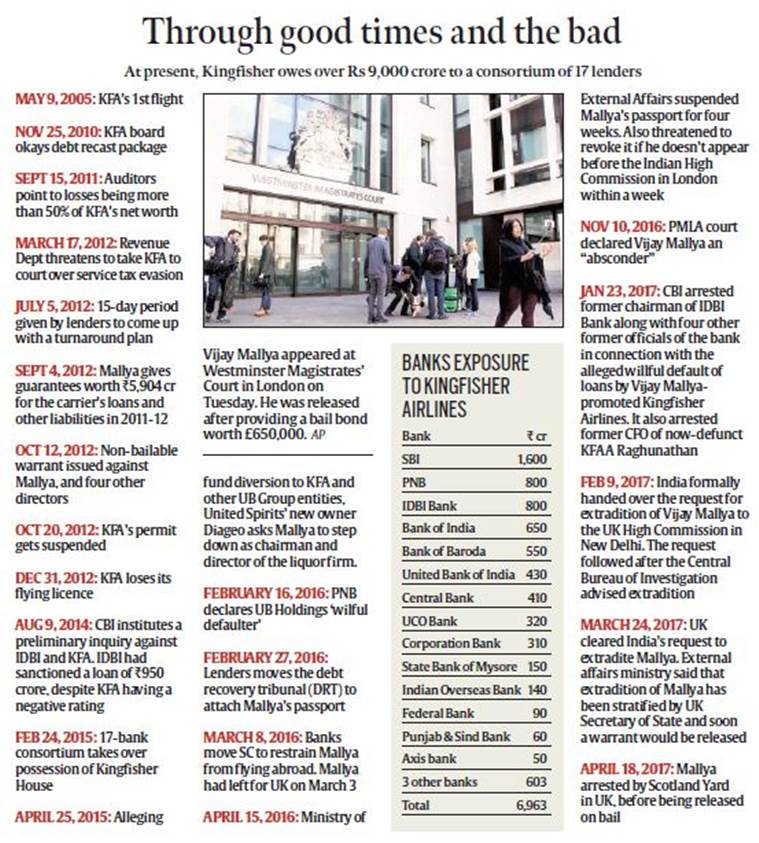 ED attached properties
The Enforcement Directorate (ED) too has registered a case against Kingfisher Airlines under the stringent Prevention of Money Laundering Act (PMLA) and attached Mallya's properties worth over Rs 9,661 crore. Mallya has also been declared a Proclaimed Offender by a special PMLA court. The ED has also sent Letters Rogatory (LR) to the US, the UK and Europe requesting the competent foreign authority to assist in attachment of over 10 foreign assets of Mallya, who owns properties in London, New York, California, Johannesburg and Mediterranean islands off the French Riviera, among others.
Both the CBI and the ED have also obtained non-bailable arrest warrants against Mallya and have initiated extradition proceedings against him through the Ministry of Home Affairs. On February 8 this year, India handed over a formal extradition request to the British government to bring back Mallya under the India-UK extradition treaty.
Kingfisher owes over Rs 100 cr in service tax
But the CBI and ED are not the only agencies that want Mallya to be extradited to India. On March 18, a Mumbai court passed an order asking the Ministry of External Affairs (MEA) to initiate extradition proceedings against Mallya and Sanjay Agarwal, chief executive officer of Kingfisher in a case pertaining to default of service tax of over Rs 100 crore. The service tax department had in 2012 and 2015 filed two complaints with the chief metropolitan magistrates court for non-payment of service tax of over Rs 100 crore by Kingfisher, despite collecting this amount from passengers. In September 2016, the court issued non-bailable warrants against Mallya and Agarwal. However, these warrants could not be executed as Mallya is currently residing in UK, while Agarwal is in the US. The service tax department has also impounded at least four aircraft in connection with non-payment of taxes but has not been successful in recovering the dues as the auction of Mallya's jet has failed multiple times.
SFIO probe
The Serious Fraud Investigation Office (SFIO), too, has initiated investigation into alleged diversion of funds and violations of the Companies Act by the airline, which was grounded in 2012 amid mounting debt and accumulated losses. The SFIO had in August 2016 summoned all the former chairman and managing directors (CMDs) of the 14 public sector banks that have lent to KFA as a part of its probe into loan default to ascertain the rationale behind extending loans the airlines even when the company performed poorly and on the due diligence done by the banks before lending.
Most of the loans were granted to Kingfisher Airlines between 2006 and 2009 when Mallya was an MP. In November 2010, banks for the first time restructured Kingfisher's debt. The consortium of lenders converted Rs 1,355 crore of debt into equity at a 61.6 per cent premium to the market price of KFA stock. Besides, the bankers stretched the period of repayment of loans to nine years with a two-year moratorium, cut interest rates, and sanctioned a fresh loan. Kingfisher Airlines is also being probed for alleged anomalies in EPFO contribution.
Dues to employees
Apart from the government agencies and banks, Kingfisher has also been taken to court by its employees over non-payment of salaries. The Airport Authority of India and GMR Hyderabad International Airport in two separate cases have moved court against Kingfisher Airlines to recover dues of Rs 294 crore and Rs 12 crore respectively.
For all the latest Business News, download Indian Express App