Written by
Sunny Verma
| New Delhi |
Published:September 16, 2016 1:52 am
The Centre has written to West Bengal urging the state to join the Public Financial Management System (PFMS), which is a web-based platform for tracking of funds released under schemes of the central government. The Union finance ministry has tried to address concerns of West Bengal that the PFMS would not result in intrusive monitoring and that it pertains only to the central sector and centrally-sponsored schemes.
"The Centre has replied, requesting them (West Bengal) to reconsider. They (West Bengal) have opposed due to perception issue. All that the Government of India is concerned with is central sector schemes and centrally-sponsored schemes. We are not concerned with state schemes at all. We are only concerned with the central scheme, what the Centre is spending," said Controller General of Accounts (CGA) M J Joseph.
"It (PFMS) is also useful for the states, because they have no other way to find out how their own money is being used. The department of expenditure has written back to the finance secretary, Government of West Bengal, to reconsider," Joseph said.
PFMS is being implemented by the CGA for tracking of funds released under all Plan schemes of the central government and real-time reporting of expenditure at all levels of programme implementation through the treasury-bank interface. Since October 2015, it is also being used for disbursal of non-plan funds.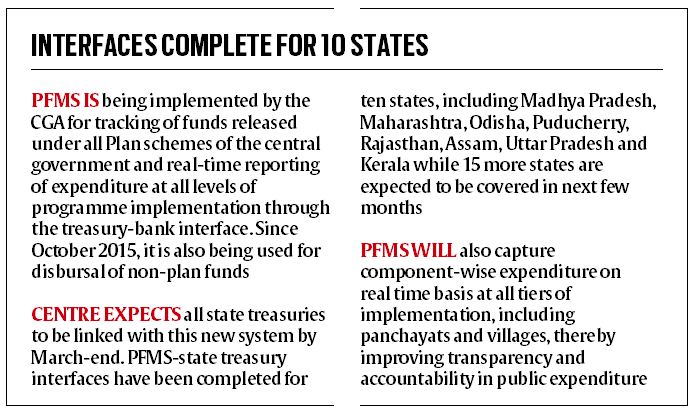 The government expects all state treasuries to be linked with this new system by March-end. PFMS-state treasury interfaces have been completed for ten states, including Madhya Pradesh, Maharashtra, Odisha, Puducherry, Rajasthan, Assam, Uttar Pradesh and Kerala while 15 more states are expected to be covered in the next few months. Punjab, Goa, Haryana, Sikkim, Manipur and Andhra Pradesh are among the states that are in the process of linking their treasuries with the system.
"We have identified nine states in the first phase. They have more or less completed the phase of data exchange and are now mapping the implementing agencies. Nine plus fifteen (states), they are all in the process of implementing it," Joseph said.
All government payments for the central schemes will be routed to the states through the PFMS in due course.
The system aims at registration of all agencies receiving plan funds with their bank accounts and enable payment to ultimate beneficiaries through banking channel. It is expected to result in just in time provision of funds to implementing agencies and ensure that funds don't lie idle with the states.
PFMS will also capture component-wise expenditure on real time basis at all tiers of implementation, including panchayats and villages, thereby improving transparency and accountability in public expenditure. The Centre provides funds for a total of 797 schemes, accounting for a total outlay of around Rs 4.8 lakh crore. PFMS will also enable direct benefit transfer payments to the beneficiaries.