Written by
Anil Sasi
|
Updated: July 1, 2015 2:47:03 am
The number of enrollments in Industrial Training Institutes or ITIs has seen an incremental surge of over 20 per cent in 2014-15, as against a nearly flat growth observed in each of two preceding years.
The surge in enrollments last fiscal was driven mainly by the better performing ITIs where industry is actively involved as a participant, including the ones supported by auto majors Maruti Suzuki and Mahindra & Mahindra as well as those where utilities such as NTPC Ltd are partners. The surge is despite a total of 103 ITIs being de-affiliated during the last two financial years due to non conformity with National Council on Vocational Training norms.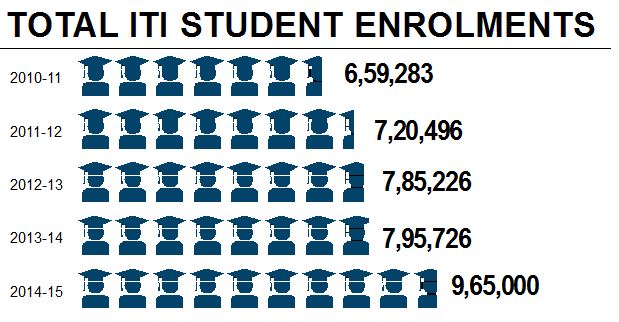 The fee system for ITIs was changed since the introduction of the semester system since the August 2013 session and the examination under the above pattern has been conducted since February 2014 onward.
The examination fee was earlier charged only once depending on the duration of the trades but in the present system, it is charged semester-wise.
The biggest contributor, though, is positive industry partnership. Maruti Suzuki – the country's largest carmaker, is working on plans to scale up its skill development activities across ITIs by setting up Automobile Skill Enhancement Centres or ASEC at 45 government-run ITIs across the country.
Each of these centres are be equipped with a model workshop to provide practical training, alongside which the company plans to also appoint full-time trainers, provide tools and equipment and forge partnerships with local Maruti Suzuki service workshops to upgrade skills of ITI students and make them job-ready. The trainees will be free to seek employment in any workshop, including those not servicing Maruti Suzuki vehicles. "With the growth in the number of vehicles on the roads, quality repair and maintenance offers a major employment opportunity," according to Pankaj Narula, executive director (service) at Maruti Suzuki. Students trained at the ASECs will be awarded an additional skill training certificate, an additional incentive.
ITI Solan is among the government-run ITIs where the motor mechanic trade and electrician trade have been upgraded by utility vehicles major Mahindra & Mahindra, resulting in a sharp increase in demand for the course. Under this partnership, M&M conducts programs on various aspects of automobile manufacturing and servicing — referred to as 'Mahindra  Special Technical Education  Programme for Students' or  'M – STEPS' — to student community  who are undergoing   certain specified and government recognised technical course. This is in addition to the regular syllabus prescribed to the Institute.
The involvement of third party monitoring agencies to carry out verification of infrastructure of vocational training providers, credentials of students, trainers and assessors, curriculum compliance and training delivery and assessment processes, is another reason being attributed for the improvement in the perception of government's skill development institutions.
Studies conducted earlier bear this out. The performance evaluation studies of ITIs providing training under Craftsmen Training Scheme carried out by Quality Council of India in 2011 have shown that placement rate in the ITIs which have been upgraded has increased between 80 to 99 per cent, whereas in other ITIs it is 40 to 50 per cent. A mid-term tracer study was conducted under the Vocational Training Improvement Project to measure labour market performance of graduates passed out from government ITIs. Based on this study conducted in 2011-12, 60 per cent of project ITIs' pass-outs find employment within one year of finishing training, as compared to baseline of 32 per cent conducted in Year 2006-07. Fresh studies are being undertaken to clock performance. In the Skill Development Report of National Skill Development Corporation and KPMG, 460 million is the demand of human resource across the 24 sectors including construction, IT, Textiles & Clothing, Food Processing, Retail, etc. in 2013. This number is expected to reach to 580 million by 2022 —a combination of entry level workforce as well as the existing workforce, which would need to be freshly skilled and upskilled.
As it works to expand skilling programmes through vocational training institutes such as the ITIs and technical colleges, the Centre is also planning a scheme for entrepreneurship development that would introduce specific courses in at least 5,000 colleges over the next three years. The scheme, besides focussing on colleges, also plans to target schools for building awareness as entrepreneurship as a career option. "We
will be helping roll out entrepreneurship modules in at least 3,000 colleges across the country," Ajay Mohan Goel, executive vice president, Wadhwani Foundations, which signed a memorandum of understanding with the Ministry of Skill Development in January this year, said.
For all the latest Business News, download Indian Express App