Written by
Udit Misra
|
Published: February 28, 2016 12:48:53 am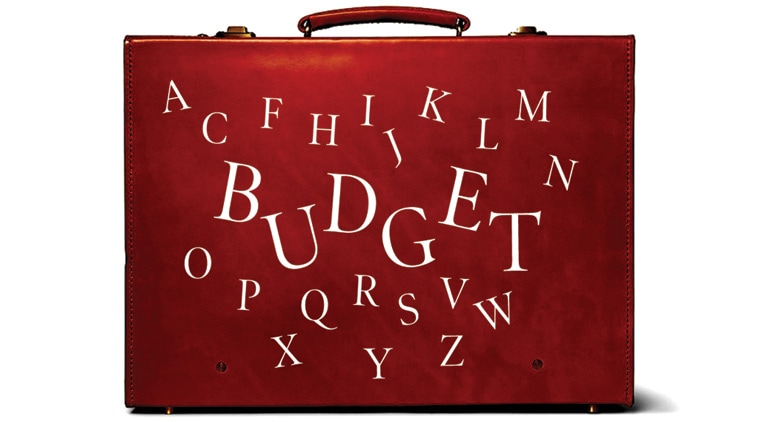 A – Agriculture, Acronym, Achilles' heel, Annual financial statement
First things first. There is no such thing as the "budget". Yes, it's a misnomer. The Constitution only talks about an 'Annual Financial Statement' which, as Article 112(1) states in sleep-inducing legalese, the President "shall… cause to be laid… a statement of the estimated receipts and…".
But there are other contenders for this slot. 'Agriculture' for one, which is stretched between the vagaries of La Nina and El Nino. It is today Indian economy's 'Achilles' heel' — another term often used.
But given the Prime Minister's flair for coining new 'acronyms', you can bet a new one may be around the corner.
B – Bracket, Black money, Big ticket, Briefcase
The 'briefcase' has to be the obvious choice under B. There are few photographs more circulated than that of a finance minister holding up a burgundy briefcase as he/she enters Parliament. Nothing changes year on year — the colour of the briefcase, the winner's smile on the face of an FM, and the supportive yet am-I-in-the-same-frame look among the bystanders.
A modern-day FM might just carry a USB instead, but holding it up may not have the same allure.
Other contenders include the 'black money' that never came back, or the 'big ticket' announcements that TV anchors start frantically searching for, or the tax 'brackets' that define a common man's happiness.
C – Cess, Commitment, Commission, Challenges
'Challenges' is the winner here, especially this year. The salient aspect of these challenges is that no FM, presenting the Budget that is, is ever responsible for them. In a way, every government is like any one of us — our true legacy is the issues we leave behind. But to counter challenges, FMs are forced to make 'commitments', which is all fine but for the fact that such commitments tend to result in 'cesses' of all kinds.
Remember the Swachh Bharat cess? Now there's an extra 0.5 per cent you pay every time you sink your teeth into that juicy steak, oops, juicy vegetable cutlet.
There's 'commission' too. There's always a commission.
D – Direct Tax Code, Digital India, Doing Business, Deficits
Do you remember the 'Direct Tax Code'? In human terms, the DTC is like the Cinderella to the Goods and Services Tax Bill. Media's neglect of the DTC in favour of the GST would put Cinderella's step-mother to shame. Well, sadly that will continue to happen.
The winner under D, and much emphasised, is 'doing business'. No kidding, 'deficits' be damned!
'Digital India' is a reality and you can talk about it to us if your call doesn't drop. By the way, the ultimate test for Digital India has to be one completed call in a JNU hostel, without precariously hanging out the window.
E – Employees, Estimates, "E-whatever", Efficiency, Education
'Employees' are always important, especially before elections. So every Budget must acknowledge their nuisance value.
Then there's 'education', but since Minster for Human Resource Development Smriti Irani has already found out the secret — that you don't need more money to do better research — the plan to ask for an increase in Budget allocations is moot.
Every Budget also aims at improving 'efficiency'. Over the past decade or so, any government job profile that could, without attracting Fowler's wrath, survive an 'e' being added before it, has had an 'e' added before it. For instance, farmers are now connected to 'e-markets'. As a rule, it is nice to connect the disadvantaged section of the society to something that starts with 'e-'.
The winner though is the government's 'estimates'. What estimates, you scream? Precisely.
F – All things Foreign (from direct investment to trade to hand), Financial inclusion, FRBM Act
F stands for a lot of things. From the first word that comes to mind, to all things 'foreign' — income to trade and investment to 'foreign hand'. In fact, if you limited your scope to statements made by Indian politicians over the decades, the foreign hand may actually appear to be the prime mover.
There's 'financial inclusion'. Every Budget wants to bank the unbanked and fund the unfunded. It is a different matter that in all of this, our banks have stopped being bankable.
But the most important phrase here is the 'FRBM Act', which stipulates the range in which all deficits must remain confined.
G – Ganga, Goods and Services Tax, Good governance, Green everything, GAAR, Gau Mata
First up: Jai Maa 'Gange'. Of course, the revered river is still stinking but the government has another three years and most of the Rs 20,000 crore reserved for it still at its disposal. It's just waiting for the duel between the Environment Ministry and Water Resources Ministry, currently underway in the apex court, to end.
There's 'GST', but it seems, going back to the Cinderella analogy, that Prince Charming is yet not interested despite several discussions on intolerance.
There's 'GAAR'. Don't ask for the full form — it doesn't help one bit. It was introduced in the 2012 Budget and was met with a Grr!
There's 'green-', quite in the same league as 'e-'. An FM can get away by promising that any policy would be made green.
Not to be left behind is 'Gau Mata'. "I also propose to set aside a sum of Rs 50 crore for the development of indigenous cattle breeds," the FM had thundered in 2014.
But the winner has to be 'good governance', primarily because, barring the allocation of Rs 100 crore for a programme "promoting Good Governance", it continues to be conspicuous by its absence.
H – Hundred crore
This is first hands-down winner on the list. There is no contender to 'Rs 100 crore'. The beauty of this amount is that it's too big for most Indians to not be taken seriously and yet, in terms of national accounts, it is the most insignificant bit of money an FM can allot. So what's the point of it? It is a self-respecting FM's defence mechanism. Once you have announced a scheme and introduced it with the crucial phrase "initial allocation" of Rs 100 crore, you are home and dry. In one stroke, an FM blunts all criticisms. Some past examples include the National Adaptation Fund on Climate Change, modernisation of madarsas and CLICK (or Communication Linked Interface for Cultivating Knowledge). There's such a thing.
I – Initiatives, Investment, Infrastructure, Inflation
This is a no-nonsense category. 'Inflation' is behaving like Two-Face from the Batman comics: The wholesale rate is below zero, yet the retail rate, at 5.6 per cent, is above the RBI's target.
Then there is 'infrastructure' —not the actual infrastructure but the plan for it. And there is 'initiatives'. It is the first rule of Indian Budgets — have lots of initiatives.
The winner, though, is 'investment'. If the government does not attract private-sector investment —and mind you, investment is always "attracted", it never seems to happens on its own — then your days in office may be numbered.
J – JAM Trinity, Jobs
Some of the current government's detractors have been in a daze since they first read the chapter titled 'Wiping Every Tear From Every Eye: The JAM Number Trinity Solution' in the Economic Survey last year. 'JAM, or Jan Dhan, Aadhaar and Mobile' is the new architecture, in policy-speak, to implement direct transfer of benefits.
JAM and GST were not only knighted as the "two game-changing reforms", but they also had a nice ring to them. JAM and GST. Banquo and Macbeth. Jack and Jill.
But the winner of this two-horse race is 'jobs'. Close to 93 per cent of India's economy is in the informal sector, which makes it difficult to map in terms of jobs. The government tracks it through proxies. Within the formal sector, the numbers tracked by the Labour Bureau are not very pretty.
K – Keynes
No, K is not for Kanhaiya, Khalid or Kalburgi. The government may argue that none of them are related to the Indian economy, or so it seems at first. Still, the surprise winner under K is 'Keynesian' policy prescription.
When the NDA came to power, many started writing the book titled 'The Road from Serfdom', a take on the title of a classic text written by Austrian economist Friedrich von Hayek. That's because the NDA was expected to come through on its conservative promise. But a loud thud was heard when the NDA celebrated the UPA's flagship scheme MGNREGA as the nation's pride recently.
L – Launch new scheme, Land Acquisition Act 
The winner was supposed to be 'land acquisition Act'. But persistent failures to enact it have turned it into LA Confidential. It is stuck. Some have even tried to yank with force but to no avail.
So, the winner is 'launch'. It is a small button, fits easy into hand and squirts hope.
M – Monetising, Mission mode, Make in India, Manufacturing
Pre-liberalisation, we had a Hindu rate of economic growth and a secular society. Post it, we have a secular rate of economic growth and a Hindu society, or so say some critics. Anyway, the key thing now is that if something cannot be 'monetised' then, for all practical purposes, it doesn't exist.
Then there is 'manufacturing'. If you think of different sectors of the economy as different dinner items, then manufacturing would be broccoli — everyone skipped it. Indian economy transitioned from agricultural predominance to services without even a decade of industrial excellence.
There is also 'mission mode', which has always won in this category, given the energetic sincerity it lends to all schemes it touches, or as Shakespeare might say, "shake off their sterile curse".
But the winner this year is the new kid on the block, 'Make in India'. It is still young, and sometimes burns itself, but it is here to stay.
N – New anything, National
'New' — Never underestimate the importance of these three letters or at least ask your friend in advertising. These letters, thus arranged, can obviate any need for actual product/policy development. New has a hypnotic quality — no one ever asks, "What's new in this policy?"
There's 'National' too, although there isn't any choice in the matter. It is not as if the FM can tax Switzerland or subsidise Sudan — but it is always best to recognise its existence. After all, winning isn't everything.
O – Oil prices, OROP, Open defecation, Opportunities
Any other year, 'oil prices' would have romped home. This year though, crude oil prices are dirt cheap. Ideally that should have sent our economy into a consumption tizzy, but for the taxes that never allowed the domestic prices to fall proportionately.
Last year, 'open-defecation', not the act per se but the campaign against it, was the favoured term. A year down the line, India is lined with toilets waiting eagerly for the people's behaviour to change. As well as water to arrive.
The winner here is 'OROP', or the one rank one pension for armed forces. It could upset the fiscal math. But the bigger trouble would be if it works and the defence personnel are happy. That would open the door to demands from other big groups like the Railways.
P – Poetry, Poverty, Pay Commission
Aristotle had said that poetry expresses the universal. As such, all Budgets focus on 'poverty', but once in a while, finance ministers do resort to 'poetry', possibly to give some deeper message.
However, the most apt one this year is 'Pay Commission'. Again, the FM is in a bind. Should he boost consumption but risk inflation or control inflation and risk growth?
Q – Quality of life
In the old days of licence-permit raj, 'Q' would have always stood for quota. One could say it still does, but at least it doesn't get mentioned as often. Budgets nowadays talk about 'quality of life'. Actually, last year's Budget mentioned this phrase six times. It is a different matter, and one that looks rather bureaucratic in its making, that three of those references came due to the repetition of the same sentence: "Improving the quality of life and public health through Swachch Bharat initiatives".
At another place, the FM used the expression to justify his tax proposals. "Tax collections help the Government provide education, healthcare, housing and other basic facilities to people to improve their quality of life."
R – Rollback, Retrospective, Roadmap, Red tape, Red carpet
This is the most fun bit of the Budget alphabet. Why, it has 'rollback' in its midst. Since liberalisation, India has had one coalition government after another and rollbacks have provided tremendous cheer to the otherwise suffering public. In fact, it has become ingrained among journalists to predict which of the Budget pronouncements will be rolled back and when. The NDA smashing majority, however, has robbed rollback of its power and influence.
Lately the focus is on 'retrospective tax', which like a petulant genie just won't get back in the bottle. Even if it does, some minister or the other spoils the hard work by fingering the bottle.
Then there is 'red tape', which governments try to cut by inducting more bureaucrats, and 'red carpet', which governments try to extend by inducting more bureaucrats.
There's always a 'roadmap', just like a commission. But purely for nostalgic reasons, Rollback is the winner.
S – Swachh Bharat, Skills India, Subsidies, SC/STs, Smart
All budgets start and end with the address to the 'Speaker'. But traditionally, 'subsidies' have been the dominant word. India has, over the years of Budget-making, evolved and settled into a fairly varied and sophisticated system of subsidies. But no matter what their shape or form, subsidies are always a problem, a burden and FMs want to be commended for increasing them, or in the current case, for not reducing them as much as one would like to.
That's because most of them are not 'smart'. And everything must be smart —from cities to even initiatives such as Swachh Bharat and Skills India. Smart is the winner.
T – Taxes, Task Force, Technology, Targeted approach
Everything in life has a mirror image. That is true for the Budget as well. Subsidies have a mirror image in 'taxes' foregone. But like all mirror images, the left and right sides are interchanged. In the case of subsidies and taxes foregone, this reversal results in few ever criticising the taxes foregone. Next time, someone talks about subsidies, you might ask if the poor of this country let go of huge amounts of taxes to make some of the so-called global leaders globally competitive.
If for some reason, there's no possibility of a commission on the horizon, then a 'task force' steps in. The key merit of announcing a task force is that the government gets away looking like it is diligent when, in reality, it just wants to postpone the decision.
U – Universal (promises), Urea policy
Almost without fail, all political promises are 'universal' in their scope. And almost without fail, all actual benefits are 'targeted'. Actually, the more targeted the better.
Then there's 'urea policy', which is supposed to replace the most complicated subsidy regime known to man — fertiliser subsidies in India. It is supposed to be for farmers but it is actually given to industrialists, who make the fertilisers.
According to one train of thought, we might actually be subsidising farmers across the border. As a rule, every Budget has the following line, or some minor variation of it: "The new urea policy will be decided soon."
V – VAT, CENVAT, MODVAT
One can safely say that the Indian economy is well and truly stuck in the bog of Goods and Services Tax, which is a 'value added tax' and, as such, streamlines all taxes paid in the value chain. On the face of it, the GST makes a lot of sense and one can wonder why we never tried enforcing it earlier. Well, we did. Actually, we dragged out feet on the value added tax logic.
There's been a 'Cenvat', which is Central VAT and there's been a 'Modvat', or modified VAT. So we are in the habit of taking baby steps. Take your pick on the kind of VAT that suits you.
W – Welfare, Women
For the the most part, Budgets have ignored the gender aspect, until the public outcry over the 2012 Delhi gangrape forced every FM to think on provisioning from the 'women' standpoint.
But truth be told, it hasn't happened. Crudely put, allocation of money is not the same thing as concern for the 'welfare' of women. Allocations make sense and are effective only when they back well thought-out policies. Efforts like Mahila Bank tend to fail and hurt the larger cause.
X: X-factor
The obvious choice has be to the 'X-factor'. To be sure, even the Indian economic policy could do with a little of that X-factor that India's foreign policy so overwhelmingly enjoys. In economics, both exports and exchange rate are denoted by an 'X'. Both are falling, which is odd since a fall in the exchange rate should boost exports, because it makes domestic prices cheaper. But that's not happening. Our exports have plummeted despite a sharp fall in exchange rate.
As Spaceman Spiff, from Calvin and Hobbes, would characterise, "exports and exchange rate are stuck in the vortex zone. Only the X-factor of Spaceman Spiff can redeem them".
Y – Yojana, Yoga
Indian policymakers and bureaucrats are obsessed with plans, or 'yojanas'. That's why we have a yojana for everything. If something is not done according to plan, then irrespective of results, it would have to be done again. This time, according to plan. This overhang of planning is so strong that despite Planning Commission being wrapped up, the country is still completing the 12th Plan.
However, help is at hand. The whole Indian establishment is learning 'yoga', forgetting Yojana Aayog and concentrating on NITI Aayog. You need to concentrate on the latter lest you miss what they are doing. More power to yoga.
Z – Zones (special, economic, coastal etc), Zzzz
It is matter of conjecture what advise might one PM pass off to his successor. Concern for the well-being of the country must certainly trump party loyalties. In this regard, have the PMs passed on a secret message to make more 'zones'? It is a worthwhile query. And well-timed as well, perhaps. After all, half-way into the term, every government starts panicking about economic growth. Leaders realise the phrase "consultative democracy" wreaks havoc when used anywhere other than the Indian Journal of Public Administration. They frantically look for enclaves of economic growth. This quest has given birth to many such notions like SEZs and PCPRIs (or petroleum, chemicals and petrochemicals investment regions).
Coastal Zones this time? Who knows? 'Zzzzz'.
For all the latest Business News, download Indian Express App