Mumbai |
Published: January 28, 2014 9:07:14 am
Legendary singer Lata Mangeshkar today said she had not imagined that her song "Ae mere watan ke logon" will acquire an iconic status and become hugely popular in the country and also abroad.
"Initially, I did not know 'Ae mere watan ke logon' will become so popular," Lata Mangeshkar said at a function organised to mark the 51st anniversary of her famous song at the Mahalaxmi Racecourse on Monday (January 27).
Narendra Modi, BJP's prime ministerial candidate, was also present at the occasion, where Lata Mangeshkar sung first few lines of the song.
The song, composed by C Ramachandra, was written by Kavi Pradeep in honour of Indian soldiers who lost their lives in the 1962 war with China.
Lata Mangeshkar, 84, famously sang the song in the presence of Nehru at the Ramlila Maidan in New Delhi, on January 27, 1963.
Read: Lata Mangeshkar remembers 'Aye Mere Watan' on its 51st anniversary
Recounting the events before she performed in Delhi, the Bharat Ratna awardee said one day she received a phone call from Kavi Pradeep, who said he has written a song and wanted her to give a voice to it.
Lata Mangeshkar told Kavi Pradeep she was not prepared to sing the song at such a short notice. However, Pradeep insisted, saying "main chahta hoon tum he yeh gana gao."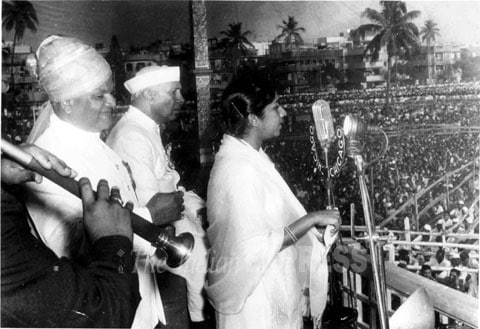 She then went to Ramachandra for rehearsal. However, since Ramachandra was in a hurry to leave for Delhi, she could rehearse the song only once. But she kept listening to the recorded song.
Lata Mangeshkar said after the function ended she was called by Pandit Jawahar Lal Nehru. "At first I was nervous, thinking I have committed some mistake. But when I met Panditji (Nehru), I saw tears in his eyes." "Lata, tumne aaj mujhe rula diya," she said quoting the Prime Minister.
Pandit Nehru was very sad over the India-China war and he looked downcast, Lata Mangeshkar said.
Later, Indira Gandhi and her sons Rajeev and Sanjay came to see Lata Mangeshkar and they clicked photos with her. "I have done over 100 shows abroad and every time I have sung this song. People always request me to sing "Ae mere watan ke logon." She thanked Narendra Modi for honouring her on the occasion.
For all the latest Bollywood News, download Indian Express App