Result: 1- 3 out of 3 Article found
EU ministers halted all official visits to Thailand and suspended the signing of a partnership and cooperation accord with Bangkok.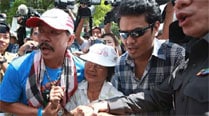 Small but vociferous protests have been held every day in the capital since the army seized power from the civilian government on May 22.
Thai Army Chief Prayuth Chan-ocha summoned ousted PM Yingluck saying he wanted to restore order in the country.