Result: 1- 3 out of 3 Article found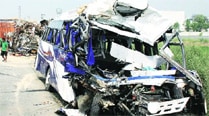 Road accidents are common in remote areas in the Philippines, largely because of poor vehicle maintenance, bad road conditions.
Goods train coming from Raghopur to Saharsa hit a passenger bus.
A passenger bus careened off of a mountain road in southern Afghanistan today,killing 35 people.