Result: 1- 3 out of 3 Article found
Amitabh Bachchan, Rajinikanth, Salman Khan and 84-year-old Lata Mangeshkar's names reportedly figure on the guest list.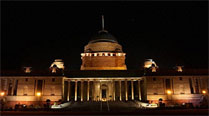 This is the first time that such a large gathering will be held at Rashtrapati Bhavan.
The CM's office said Chandy got the invitation, but he is not going for the event due to other engagements in Kerala.