Result: 1- 3 out of 3 Article found
Tiny temperature rise can make mass deaths twice as likely; unchecked emissions can expose 3/4ths of humanity to deadly heatwaves.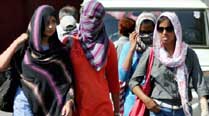 While Jaipur reeled at 46.3 degrees Celsius, Delhi recorded season's highest temperature of 44.7 degrees.
Delhiites sweltered in scorching heat as the mercury rose above the 40-degree Celsius mark again with high humidity levels.